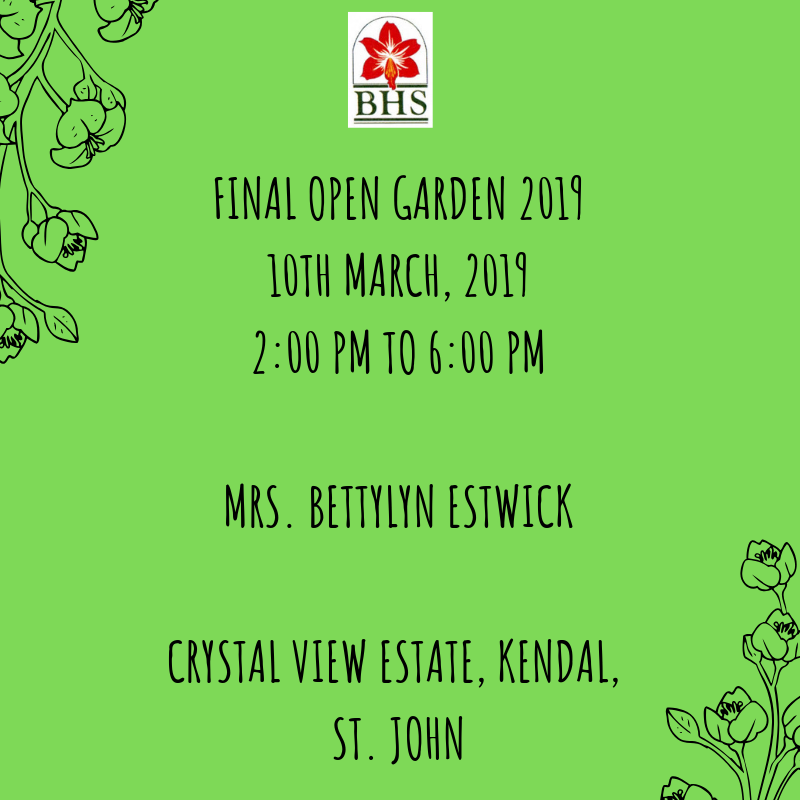 Sunday, March 10th – 2:00 pm – 6:00 pm
CRYSTAL VIEW ESTATE
KENDAL, ST. JOHN

Chrystal View Estate is the "brain child" of Mrs. Bettylyn Estwick, a former school teacher.
Bettylyn bought this 2 acre property in 2005 and set about clearing the land to commence her "dream" to create it into a garden.  The property was completely overgrown with trees and bush. There was very little depth of soil so many, many loads of soil had to be brought in for the trees both flowering and fruit to be able to grow.
In this "Park Like Garden" there are Cassias, Poorman's Orchid, Flamboyant, Neem, Palms, Coconut, Citrus fruit, Bougainvillea, Heliconias, Ginger Lilies, Bromeliads, Ferns, Gerberas and many, many varieties of Mango to name but a few.  Needless to say this necessitated that many loads of soil were also needed to plant even the grass.
Over the years Bettylyn expanded on her "dream" to build a facility to be used for functions such as weddings, meetings etc., and the well planned, located and very serviceable building came to fruition. 
Bettylyn has created several "miniature" gardens, each one different with so many varieties of plants. She has also built a "Wishing Well" and all over the garden there are numerous areas where one can sit and enjoy the spectacular view and/or delight in sitting or browsing amongst the many "miniature gardens".
The garden will be open on Sunday, March 10th from 2.00 pm to 6.00 pm.  As usual Teas, Juice, Cool drinks, Rum Punch and Iced Coffee will be available for purchase and sandwiches, cakes, cookies and other savoury items will be available.
Directions to the garden – on Highway 4 continue east past Rolling Hills to the sign for Featherbed Lane, drive up the hill to the top and turn right at the Open Garden sign on to an unpaved road/track and follow the sign to the large open area for parking and the entrance to the garden will be immediately in front of you.
Admission charges are: – BHS Members $10.00; non-members $15.00; Children under 12 years $5.00.